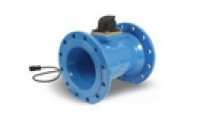 CZTJ
The TANGENCIAL JET family of water meters comprises calibres 50, 65, 80, 100, 125, 150 and 200 mm.
Its metrological operation is based on a single moving part (tangential turbine) with total absence of magnetic creep.
The rotation of this turbine is detected by electronic sensors that send the digital signal to the microprocessor, allowing the same possibilities for communication as all CONTAZARA measurement and management units.
Its hydraulics guarantees constant metrological performance throughout its entire useful life, thanks to the materials used and zero resistance to the passage of water. The TJ family can be utilized for all types of uses, from large customers, sectorization, groundwater, irrigation or even in fire prevention installations.

FICHA CZTJ